---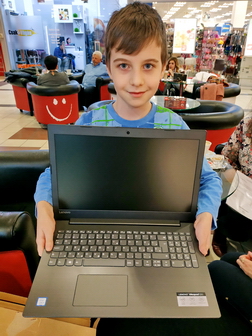 We met Nimród and his mother in a mall one afternoon in Nyíregyháza.
It took a lot of planning and effort to arrange his gift, with each day passing making his excitement grow. Once the day finally came, he opened the box impatiently with eyes glimmering with joy, revealing his new laptop. Nimród goes still to school, however his illness sadly causes him to be hospitalized often. Thankfully, with the laptop, he will still be able to continue his studies even when he cannot attend school.
We wish him nothing but happiness and success in the use of his new device.
Many thanks to the teachers, students and their parents in the American International School of Budapest, who made Nimród's wish come true.

Enikő Alagi and János Alagi
wish-coordinators
Nyíregyháza, February 6, 2020
Archive
---
2020
2019
2018
2017
2016
2015
2014
2013
2012
2011
2010
2009
2008
2007
2006