---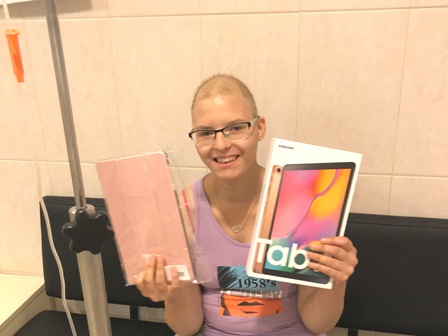 Fruzsi is a very kind and quiet girl.
Her illness unfortunately got worse, so she still has a long road ahead of her. She is getting treatment both in Miskolc and Debrecen. She needs a lot of perseverance, sadly she will not be able to meet as often with her friends. This is why she thought a tablet would be helpful in spending her free time efficiently. Of course, this way she can keep in contact with her family and friends a lot easier, while under treatment.
Fruzsi also would have liked a case that is also a stand, so as it would be a lot more comfortable to use the tablet at a table or even in bed.
I believe we were able to please Fruzsi by surprising her with a truly beautiful, girlysh tablet, and of course the special case.
We thank the students and teachers of The American International School of Budapest who helped us surprising Fruzsi!

Zsuzsi Tatár (Miskolc) and Mrs Nagy Éva (Debrecen)
wish-coordinátors
Debrecen, July 02, 2020
Archive
---
2020
2019
2018
2017
2016
2015
2014
2013
2012
2011
2010
2009
2008
2007
2006